By: Jessica Deets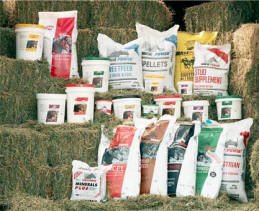 Even though your horse is a large animal, it has a very small stomach and intestines. They cannot hold huge quantities of food at a time. They require their food well spread over the day, may be four or more times a day. Major problems with horses are that they cannot vomit. They have a group of muscles around the food pipe connected to the stomach. This group works as a one-way valve. When food passes down the food pipe into the stomach the valve relaxes, but the valve squeezes after that and does not let food go back up.
Hence, the food a horse eats, has to pass through the entire digestive system. Due to this reason colic is a common problem with horses.
Grain is a regular food for horses and the quantity of grain to be fed depends on the quality of grain, size of the horse and how hard working it is. Five to Ten pounds of grain a day is what a hard worked or a larger horse should get. Lesser feed can be given to a smaller or less worked one.
Among grains, oats are standard feed which helps in digestion. Corn is another grain that is a good source of energy and fat. Molasses are added to the feed mix for flavor and carbohydrate needs. The feed should be checked for traces of certain minerals essential for good nutrition like calcium, potassium, phosphorus, magnesium, iodine, etc.
Salt is another important thing for horses similar to human beings. One to two ounces of salt should be mixed in the feed, if the commercial feed does not contain the same. It can also be given in a block form and left in the stable or pasture.
If the feed mixture contains all the nutritious goodness then the horse owner only has to monitor the quantity and time of feed.
Hay is another staple food for horses. The quantity of hay a horse should be fed depends upon its body weight. For instance, for 100 pounds body weight, a pound of hay is good enough. This quantity also depends on the quality of hay and the quantity of bodywork a horse does. Best thing is to let a horse to choose to eat throughout the day freely so that it improves its digestive system.
An adult horse's body comprises of 50% water and the baby horse or foal has 80% water. Horses need water between 5 and 15 gallons in a day. Horse watering should be done very cautiously because if watered at the wrong time can take away its life. If a horse has undergone heavy workout, cold water should not be given immediately. The horse has to be first walked out so as to cool down. When the breathing and body temperatures become normal, it should be provided with water. It should not drink in large gulps too. So, the best thing is to let the horse drink water from time to time from the freely available source so that he is not overly thirsty at any point of time. Over watering at any time should be avoided since it cannot vomit. Otherwise, it would feel uncomfortable that might be the cause for choking.
Article Source: http://www.freewebarticles.info