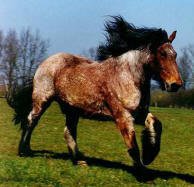 The Ardennes, a French breed, originates from the mountainous region of the Ardennes bordering France and Belgium, although there is a Swedish Ardennes and a Belgium Ardennes. The original Ardennes, the one from France, is the oldest of them all and can be traced back to accounts by Julius Caesar in his De Bello Gallico about his conquest of Gaul. The Ardennes is an ancient cob-type of draft horse, and is very similar to the remains of the ancient horse found at Solutre, suggesting a direct descendancy.
The old type of Ardennes was somewhat lighter than the massive form of today's type and would have been suitable for riding as well as draft work. They were widely used during the French Revolution and even afterward by the French military. During the Napoleonic Wars they excelled themselves with great stamina, endurance, and the ability to survive amid the harshest of conditions. It is quite likely that the Russian Ardennes was developed from the French Ardennes that was left behind in Russia during the French retreat.
The more modern type, which can be found today, was developed during the 19th century and is a larger type of draft horse. They were crossed with the Boulonnais, the Percheron, The Thoroughbred, and the Arabian horse breeds and were bred to have greater strength to cope with very heavy types of draft work. They are quite good and useful in rough and hilly areas, where they are extremely surefooted and have a kind but lively temperament. The Ardennes are also being bred in Belgium and Sweden, where they have often been cross-bred with other breeds of draft horses. The Ardennes is very closely related to the Auxois and to the Trait du Nord draft horse breeds.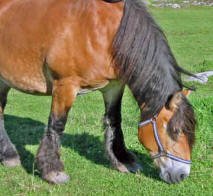 The Ardennes' conformation is cob-like, with a strong, compact body, muscled hindquarters, a thickset neck, and a well-shaped head. They tend to have a good sloping shoulder which allowsfp a freedom of movement not usually associated with the heavy draft horses. The Ardennes are particularly thickset and are built as powerhouses, with a huge pulling capacity. They are used as draft animals in Fance, but are also raised for their meat. They are usually roan in color, but bay and chestnut are also allowed. The Ardennes stands between 14.3 and 16 hh.