The Camargue ponies are from the Rhone delta of Southern France and are an ancient breed, thought to be descendants of the prehistoric Solutr' horse. They display some characteristics of the horses depicted in the Lascaux cave drawings dating back to 15,000 B.C., especially in the shape of their heads. They were influenced by the Barb horses brought over during Moorish invasions in the 7th to 8th centuries, but have since remained unchanged due to the geographical isolation of their natural habitat.
The Camargue lives in feral herds on the swampy marshland of the Rhone delta, where they live a harsh existence. They survive on salty reeds and rough grass and rarely receive supplementary food. The area is subjected to extremes of climate, and these environmental factors have contributed immensely toward their incredible toughness and hardiness.
These ponies are mostly used by the Camargue cowboys, also known as guardians, for working the wild black bulls of the area, which are commonly used in local bullfights. The horses are also used as pack ponies and as tourist trekking ponies. In spite of the breed's history, the Camargue pony did not receive official recognition until 1968 when their association was formed. Since that time, regular stallion inspections take place.
They characteristically have a large and heavy head with pronounced jaws, an extremely short neck, and a fairly upright shoulder. The conformation of their shoulders allows for a good high- stepping walk, but the trot is very stilted and rarely used. They have a good free-flowing canter and gallop. Often they exhibit a short, strong back, with a sloping croup and a low-set tail. Their legs are strong and muscular with very hard hooves. They are quite heavy in frame with a good depth of girth and a very powerful build. Agile and athletic, they have a good temperament, and tend to be extremely bold. The Camargue is slow to develop, not reaching maturity until five or six years of age, but is also lives for a very long time. The foals are born dark and lighten with age - nearly all adult Camargue ponies are gray and are branded with the breed brand, which is a 'C' in a shield. They can stand up to 14 hands high.
Return to Pony Breeds Page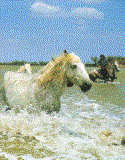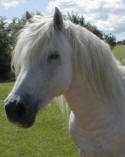 Instant Heat Hand Warmers