1. This pony breed has a lot of influence of which two ponies listed here?

Icelandic and Hucul

Haflinger and Avelignese

Bhutia and Spiti

Tibetan and Timor

2. In what year were a number of stallions introduced to the breed?

3. In what year was a committee formed to re-establish the breed?

4. What is the Bardigiano pony's main coat color?

5. Where does the Bardigiano pony originate from?

Spain

France

Indonesia

Italy

Answers
(highlight the area below with your mouse to see answers)

1. B

2. C

3. D

4. A

5. D

For more information on the Bardigiano breed, click here. Or you can just go there to search for the answers to this quiz.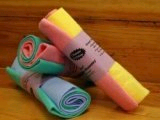 Grooming Shammy

Tail Tamer Equissager

Showsheen - Quart w/sprayer

Slick 'N Easy Grooming Block