Sally Amanda Cochran is the owner and head riding instructor at Equine Kingdom Riding Academy.

She started riding at age 10, after begging for riding lessons for quite some time. She started out learning Western Pleasure with Marge Reese in Ohio. Her family moved to Colorado shortly thereafter, where she took Saddleseat and English lessons at the Lazy J Bar S Ranch in Loveland, CO (http://www.willowmere-equestrian.com/) for several years.

Having a family that moved a lot was never easy, but it sure led to a lot of wonderful riding instruction experiences! Sally went on to take barrel racing and English hunt seat lessons in West Virginia, English lessons at Reinmaker Farm in Oak Ridge, NC, and jumping lessons from Jennifer Albano of Flintrock Farm.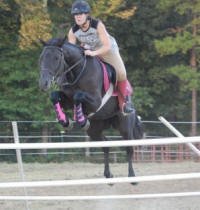 She began teaching lessons in summer of 2004, when she moved her first horse, Prissy, to a farm that let her teach beginner lessons. From there, she progressed to teaching lessons at Magnolia Farm Riding Academy in Jamestown, Still Water Farm in Summerfield, Best Friends Farm in Greensboro, and temporarily at a friend's farm elsewhere in Greensboro.

In June 2010, Sally and her husband, Matthew Cochran, purchased their own farm at 3809 SE School Rd, Greensboro, NC. It's 7.5 acre farm with a large sand lighted riding arena, 14 stalls, and currently 13 horses.

Sally became certified through the American Riding Instructor's Association (ARIA) in March of 2009. She is a Level 2 certified Riding Instructor in Recreational Riding and Hunt Seat On The Flat. She hopes to become certified in several other disciplines in the near future.


She shows her Appendix Quarter Horse mare, Mystique, at local shows as often as possible and loves to take her students to them as well. She loves to jump, and is currently working with several of her new horses on Hunter/Jumper training so they can take her students to shows!

She currently teaches several days a week and on the weekends. She offers English and western riding lessons, birthday parties, trail riding packages, clinics, summer camps, and more!

Sally loves to teach, and makes her riding lessons as fun and interesting as possible. She has a different lesson plan for each week so every rider gets as much experience as possible. She is energetic and encouraging, helpful and enthusiastic. She'll make your riding experience as wonderful as it can possibly be, with a combination of excellent training and amazing horses.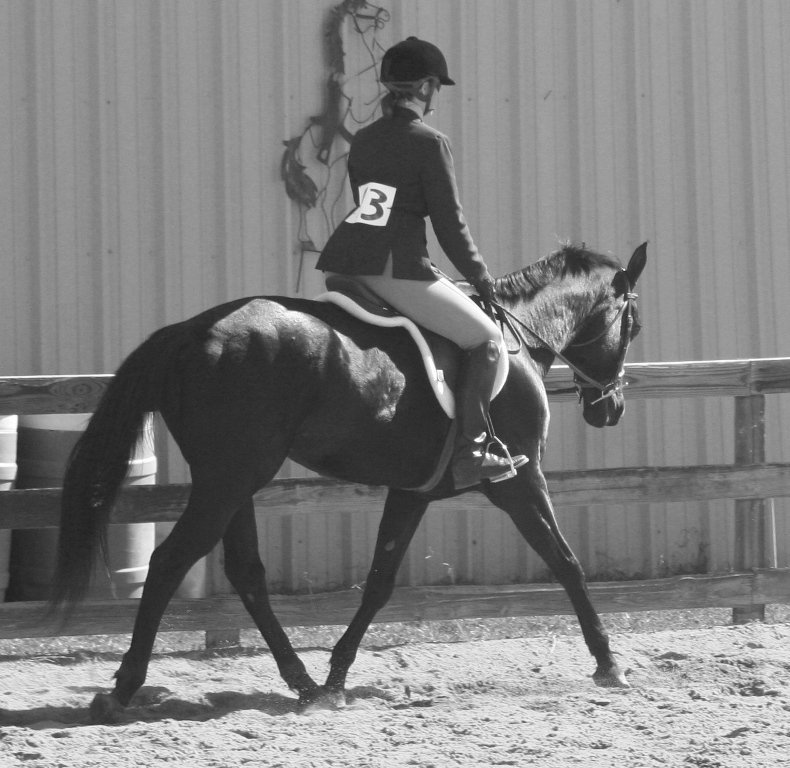 Mrs. Cochran loves to have fun, and can often be heard joking around, or seen wearing crazy outfits. Her "crazy hats" are known throughout the barn family in the winter, and for Halloween 2010 she showed her horse at a rated show dressed as Batgirl and Batmobile. They were quite a hit, and her horse, Mystique, was very tolerant. All the horses at Equine Kingdom are well trained and bombproof under Sally's tutelage. Ten of the currently thirteen horses here belong to Sally Cochran. All ten of her horses are lesson horses approved for most levels of riding.

Sally has been teaching riding lessons for over seven years, and has never taught the same lesson twice! She tries her hardest to keep things interesting and all her students learn something new with each lesson.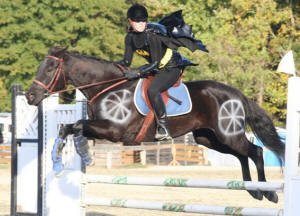 You can reach Sally to set up a riding lesson, trail ride, birthday party, camp, or clinic at (336) 517-7971, or email her at equinekingdom@gmail.com!